Nearly 50% of organizations have delayed deploying containerized apps into production due to security concerns
Enterprises are having significant problems with security when it comes to Kubernetes and container deployments, according to a new survey from security company StackRox.  
In fact, only 6% of organizations have avoided any security incident in their container and Kubernetes environments.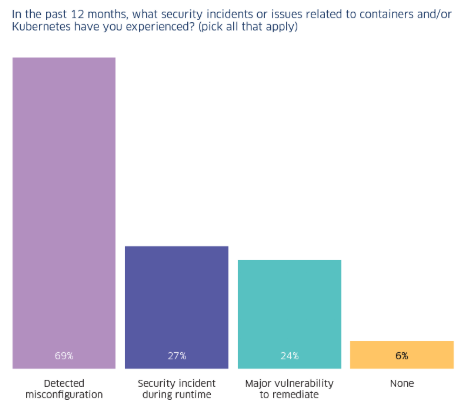 Security remains the number one concern with container strategies.
Detected misconfigurations account for almost 70% of container and/or kubernetes related security incidents.
According to the survey results, faster application development and release is considered the biggest benefit of containerization, but 44% of the respondents have had to delay deploying an application due to security concerns. 
"Companies understand they can't realize the advantages of containers and Kubernetes without getting security right. To see such a large percentage – 44% – acknowledge they've slowed or halted application deployment into production due to security concerns means these companies are not achieving the primary advantage – faster app delivery – of moving to containers"